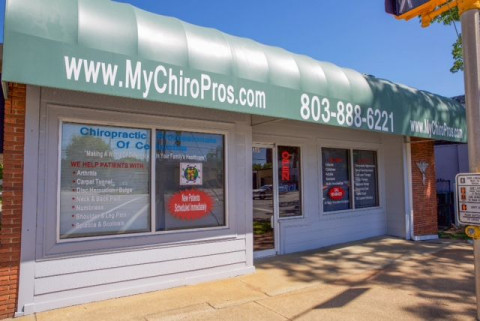 Dr. Norbert W. Benson II is a chiropractor serving Columbia and the surrounding area. Our chiropractor and the rest of the welcoming team at Chiropractic Professionals of Columbia are committed to providing chiropractic solutions to address your unique needs, whether you are experiencing back pain, neck pain, headaches, or even muscular tightness and tension. You may be searching for pain relief after an accident, experiencing an injury, or if you suffer from a specific condition like chronic back pain or a spinal condition. Even if you looking to improve your overall health, our chiropractor can help you attain your everyday wellness goals! Visit our testimonials page to find out what our patients are saying about our Columbia chiropractor and our chiropractic care plans.
At your first visit to Chiropractic Professionals of Columbia, Dr. Norbert W. Benson II will explain how chiropractic care works and give you a full evaluation to see if our chiropractic solutions are a good fit to address your needs. If there is a good fit, we can customize a plan of chiropractic care for your condition and health goals.
Dr. Norbert W. Benson II D.C.
Columbia Chiropractor | Chiropractic Professionals of Columbia | www.MyChiroPros.com
Specialties
2) Muscle Release Techniques
Activator
Adjustments
ART Therapy
Arthrostim
Auto Accidents
Auto Injury Care
Back Pain
Car Accidents
Chiropractic
Chiropractic Clinic
Chiropractic Services
Chiropractic Treatment
Chiropractor
Closed Door Adjustment Rooms
Disc Problems
Diversified
Drop Table Technique
Drop Technique
Extremity
Family Chiropractic
Fibromyalgia
Full Spine Adjusting
Graston Therapy
Headaches
Herniated Disc
Impact
Laser Therapy
Low Force
Massage
Massage Therapy
Motor Vehicle Accidents
Muscular Rehab
Neck Pain
Nimmo
Nutrition
Orthotics
Palmer Package
Pediatric Chiropractic
Pediatrics And Pregnancy
Physical Therapy
Pinched Nerve
ProAdjuster
Rehabilitation
Sciatica
Shoulder Pain
Spinal Adjustments
Spinal Decompression
Spinal Rehabilitation
Sports Injuries
Sports Injury
Sports Medicine
Sports Rehab
Trigger Point Therapy
Ultrasound
Weight Loss
WEIGHT MANAGEMENT
Wellness
Whole Body Care