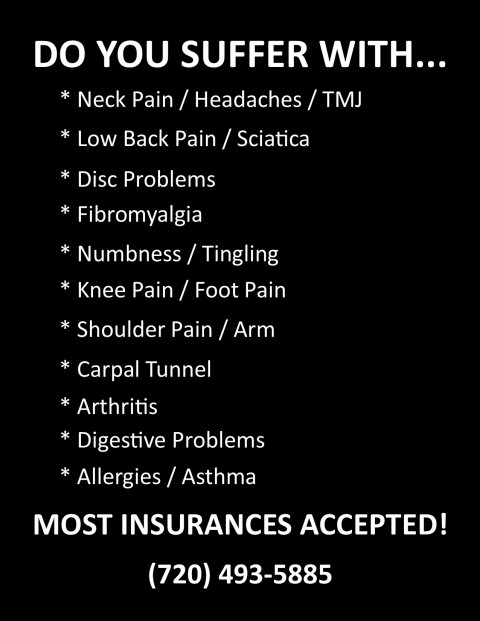 Award winning Chiropractor located at Wadsworth and Alameda in Lakewood, CO. Renew Chiropractic accepts most Health Insurance plans and all Auto/Car Accident Claims including Med Pay and liens. Dr. Jason Jumper at Renew Chiropractic specializes in treating Car Wreck Injuries, Whiplash Injuries, Auto Accident Injuries, Neck Pain, Back Pain, Headaches, Sciatica, Disc Bulges, Numbness and Tingling, Corrective Care Scoliosis, Shoulder Problems, Jaw Problems (tmj) and Sports injuries. Our Lakewood Chiropractic Clinic is a premier Chiropractic Spinal Rehab Facility.
Established in 1997 Dr. Jason Jumper's mission is to restore and maintain the health of patients we are privileged to serve through the use of Chiropractic care, Physical therapy, Spinal rehabilitation, Auto accident treatments, Whiplash injury treatments, Scoliosis corrective care, Foot orthotics, Whole body vibration, Postural analysis and have On-site a 20/20 Digital X-Ray Facility.
There has never been a better time than right now to take control of your health before your health takes control of you. Been in a Car Wreck? Are you suffering with constant Neck and Back pain? Take pain relievers daily to suppress Headaches and Migraines? Or, are you just striving to make it into retirement with excellent health? If so, Call Renew Chiropractic in Lakewood, Colorado at .
Specialties
2) Muscle Release Techniques
Adjustments
Auto Accidents
Auto Injury Care
Back Pain
Car Accidents
Car Wreck Injuries
Chiropractic
Chiropractic Care
Chiropractic Clinic
Chiropractic Treatment
Chiropractor
Closed Door Adjustment Rooms
Corrective Exercises
Decompression
Disc Problems
Diversified
Drop Table Technique
Ergonomics
Extremity
Family Chiropractic
Family Wellness
Fibromyalgia
Headache Treatment
Headaches
Herniated Disc
Kinesiotape
Low Back Pain
Motor Vehicle Accidents
Musculoskeletal Pain And Inflammation
Neck Pain
Nutrition
Nutritional Recommendations
Optimal Function
Orthotics
Pain Management
Pediatric And Prenatal Chiropractic Care
Pediatric Chiropractic
Pediatrics
Pediatrics And Pregnancy
Personal Injury
Physical Therapy
Pinched Nerve
Pinched Nerve
Pregnancy
Rehabilitation
Sciatica
Scoliosis Treatment
Shoulder Pain
Spinal Adjustments
Spinal Decompression
Spinal Rehabilitation
Sport Injuries
Sports Injuries
Sports Injury
Sports Medicine
Sports Rehab
Supplements
Trigger Point Therapy
We Carry Standard Process And Biofreeze
Weight Loss
WEIGHT MANAGEMENT
Wellness
Whole Body Care