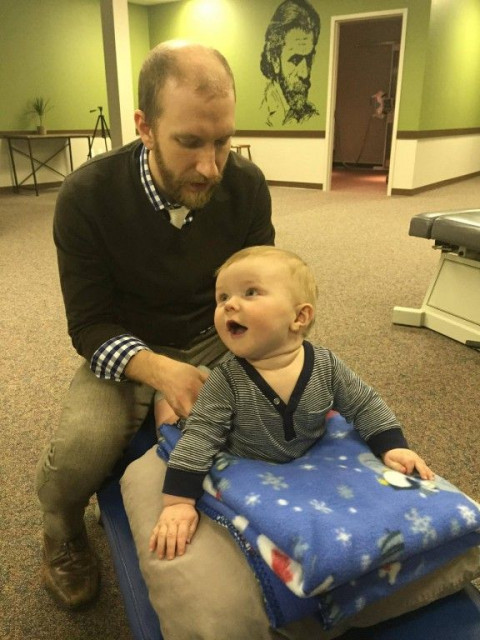 Dr. Porter opened Functional Chiropractic - Upper Cervical Clinic just over 2 years ago to provide the Tennessee Valley with full-spine chiropractic care, paired with his specialty in Upper Cervical chiropractic. This focus on the top two bones in the neck, the atlas and axis, is the key to alleviating discomfort throughout the body, as well as allowing the body to maximize its potential in activity, mobility, and strength.
Dr. Porter's interest in chiropractic was sparked when after years of suffering from chronic allergies, headaches, acid reflux, and a developing chronic fatigue, all of Porter's symptoms went away after receiving chiropractic care. The benefits were so life-changing that Porter decided to go back to school and complete his Bachelors of Science, as well as his Doctorate in Chiropractic.
With convenient "after work" office hours and Memorial Parkway location, Functional Chiropractic provides affordable, life-changing chiropractic care with excellent customer care and an excitement about your health! When you Function Better, you Feel Better! Visit www.funchiropractic.com and www.facebook.com/funchiro for more information, and call to schedule your new patient appointment today!
Specialties
2) Muscle Release Techniques
Activator
Adjustments
Back Pain
Blair Upper Cervical Technique
Chiropractic
Chiropractic Care
Chiropractic Clinic
Chiropractic Treatment
Chiropractor
Disc Problems
Diversified
Drop Table Technique
Drop Technique
Extremity
Family Chiropractic
Fibromyalgia
Headaches
Herniated Disc
Low Force
Neck Pain
Nutrition
Pediatric Chiropractic
Pediatrics And Pregnancy
Pinched Nerve
Rehabilitation
Sciatica
Shoulder Pain
Spinal Adjustments
Sports Injuries
Sports Injury
Sports Rehab
Trigger Point Therapy
Upper Cervical Chiropractic
Weight Loss
WEIGHT MANAGEMENT
Wellness
Whole Body Care